DESIGNTri-colourContrasting elements: Tape look on flaps, knee seams and laterally on the lower part of the trousers, colour blocking on the side panels on the lower part of the trousers, wide belt loops on the back of the waistbandReflective elements: Knee hollows, thigh and hip pocket flaps, above contrastFUNCTIONErgonomic contouring for greater freedom of movement2 side pockets with large openingsLeft hand side: Smartphone pocket in thigh pocketRight hand side: Hip pocket with flap and hidden snap fastenerElasticated waistbandZip flyInner hem can be lengthened by up to 5 cmLoad points reinforced with bartackThe fabric is tested according to the UV protection standard DIN EN 13758-1:2007-03, UPF 50+ und AS 4399:2020, UPF 50+
DESIGNClose-fitting cutTri-colourContrasting elements: Tape look on collar, inside arms, jacket seam, front and back side panels and below the shoulders, colour blocking on shoulder panels, front and back, inside armsZip fasteners: BlackReflective elements: Underneath front and back shoulders, chest pocket flapFUNCTIONErgonomically tailored for stress-free working in forced postures2 concealed side pockets with hidden snap fastenerLeft hand side: Chest pocket with flap and hidden snap fastenersLeft hand side: Pen pocket on upper armLeft hand side: Inner pocket with snap fastenerRight hand side: Inner smartphone pocket with snap fastenerLabel in collar denoting suitability for industrial laundryFront zip fastener with zipper pull tag and combined beard and chin protectionAnti-scratch finishStand-up/turn down collar with reinforced collar edgingSeam-free shouldersLoad points reinforced with bartackThe fabric is tested according to the UV protection standard DIN EN 13758-1:2007-03, UPF 50+ und AS 4399:2020, UPF 50+
DESIGNContrasting elements: Inner collar in the colour ginkoZip fasteners: BlackReflective elements: chest pocket flapFUNCTIONLeft hand side: Chest pocket with flap and hidden snap fasteners, reinforced flap and openingCovered front zip with spiral turned inwards to protect against dirt and scratches, panel closes with press studsAdditional inner panelStand-up collarCuffs with elastic insertSeam-free shouldersLoad points reinforced with bartackThe fabric is tested according to the UV protection standard DIN EN 13758-1:2007-03, UPF 50+ und AS 4399:2020, UPF 50+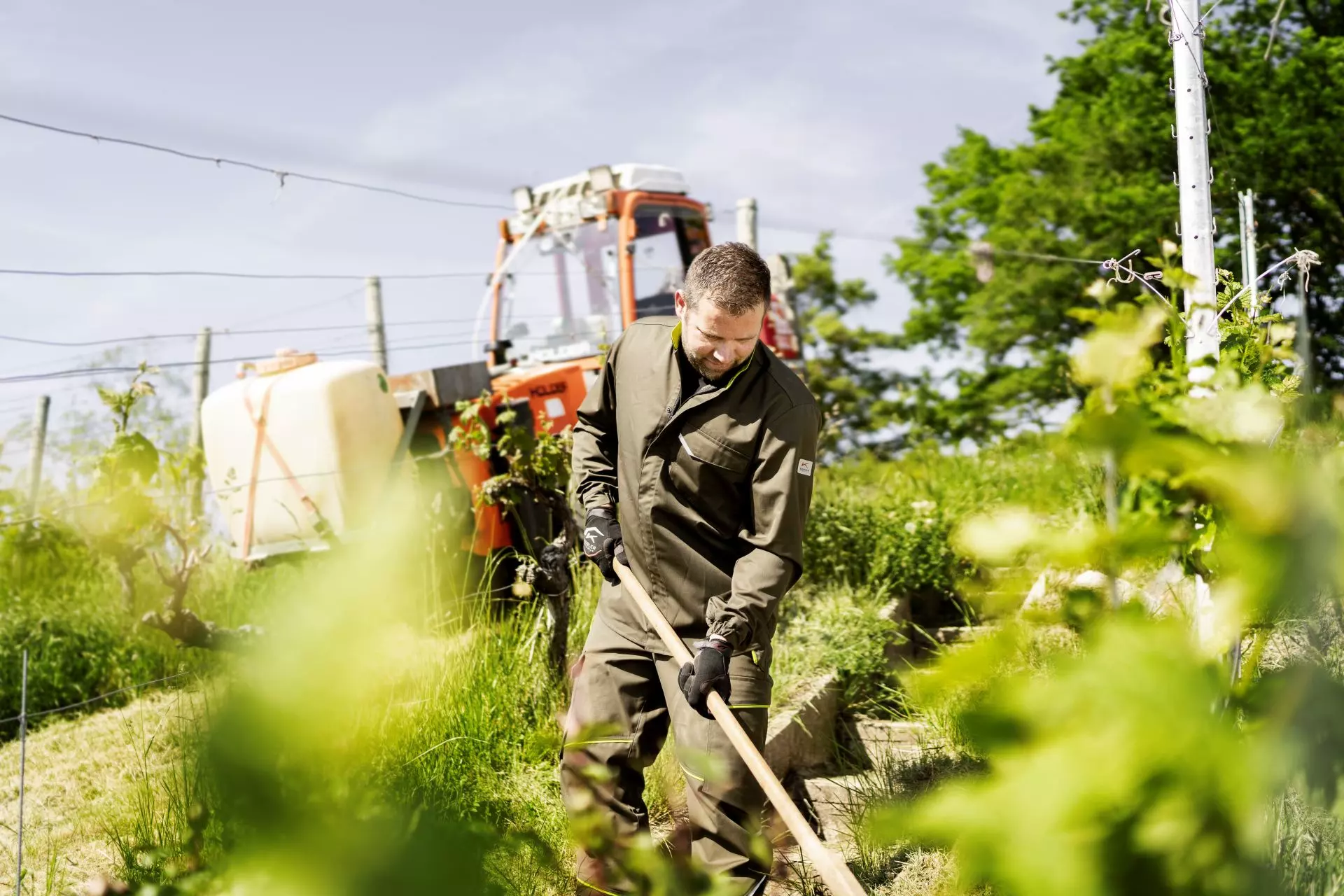 KÜBLER BIOGUARD inspires with its unique color signature. The basic color olive is complemented by black contrast inserts as well as ginko-colored highlights in tape look. The clever contrast contour emphasizes shoulders and waist and shapes the silhouette in combination with the reflective elements. The slim leg course is fully in line with the trend.

For a strong team appearance: jacket and shirt offer plenty of room for individualization. The detachable pocket pouch of the Napoleon pocket allows the jacket to be finished quickly and easily. Whether company logo or name - nothing stands in the way of an unmistakable appearance.

KÜBLER BIOGUARD becomes a real eye-catcher thanks to deliberately placed reflective elements that not only emphasize the sporty silhouette, but also ensure dynamism and attract attention.

KÜBLER BIOGUARD provides an extremely comfortable wearing sensation and at the same time offers reliable protection. The ergonomic cut and the sophisticated fit are perfectly tailored to the needs of the user and allow relaxed work even in forced postures. The jacket's low collar does not interfere with overhead work. And the shoulders are also protected from chafing injuries thanks to the seamless finish. Elastic inserts at the cuffs and waistband of the pants guarantee maximum comfort. Particularly tricky: the leg length can be individually adjusted thanks to the integrated hem extension. Translated with www.DeepL.com/Translator (free version)

The functional pocket concept offers plenty of lockable storage space. Even large smartphones find their place in the extra-large, loose thigh pocket or the inner pocket of the jacket. Thanks to the ski-jump effect and in combination with the jacket, the pocket flaps ensure that liquids or splashes have no chance to adhere to the material, but flow directly downwards.

The Hydrofoil finish gives the fabric water, oil and chemical repellent properties. The service life of the garment is increased by clever details such as the wide belt loops, reinforced collar edge and stress points secured with latches.