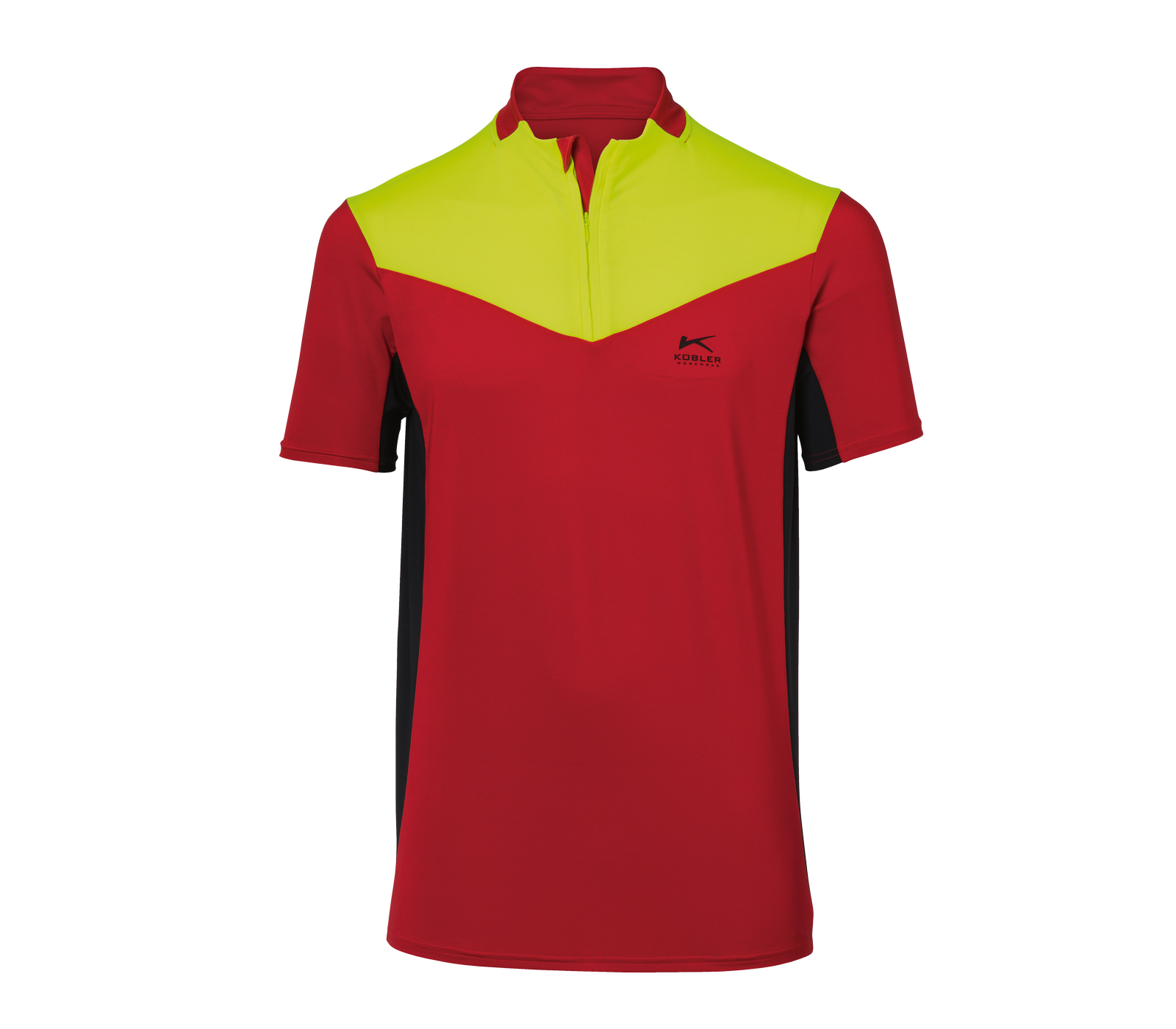 DESIGNClose-fitting cutContrasting elements in high-vis yellow: Shoulder and front yoke section, zipContrasting elements in black: Underarm and side flanksKÜBLER branding on chest on left hand sideFUNCTIONZip neck shirtShaped stand-up collarVery flat zip with combined chin guard and wind flapUnderarm and side flanks with mesh ventilation insertsLight, elastic functional fabric with odour inhibiting properties, fast drying and moisture regulating
Modern workwear with quality
KÜBLER Workwear has been one of the leading manufacturers of workwear for years. One of our principles is: only when the customer feels comfortable in our work shirt are we satisfied with our work. To achieve this goal, we rely on an innovative and dynamic concept.
Premium functional shirts for daily wear at work
Functional shirts are suitable for a wide range of professions for many reasons. They are available as long-sleeved and short-sleeved work shirts, which makes them ideal for working outdoors as well as indoors. Especially in cool weather, the long-sleeved shirt provides the necessary warmth. Thanks to the elastic material, you can move freely. Even if the work is sweaty, the breathable fabric allows the air to circulate undisturbed.
Your advantages at a glance:
1. Suitable for different occupational groups.
2. Available as long-sleeved and short-sleeved work shirt.
3. Made of elastic and air-permeable material.
The best thing about it is that the functional shirt can be combined with workwear from KÜBLER Workwear. The days are over that workwear looks boring and grey! The colour selection is diverse and tailored to the tastes of both men and women. KÜBLER is a modern brand that attaches great importance to serious style.
Even in winter, the fabric keeps you warm because the heat is stored according to the onion principle. You wear the functional shirt as the bottom layer and put several other layers on top.
Your advantages at a glance:
1. Can be combined with workwear.
2. Available in a wide range of colours.
3. Warms in winter according to the onion principle.
If you're curious, you'll find KÜBLER's high-quality functional shirts in our online shop. These are sorted by size and come in different cuts - they accentuate the body or have a cut-off stand-up collar. They are also equipped with various accessories consisting of zips and breast pockets.
Work shirt with high-visibility colours
Sustainable production is very important to us at KÜBLER. That is why we make sure that the fabrics for our work shirts only come from certified manufacturers.
We also have functional shirts made of synthetic fabrics. These have the advantage that they can be cleaned quickly and repel moisture.
Safety is KÜBLER's top priority, which is why our workwear at KÜBLER is also available in warning colours. The work shirts coloured in warning colours make you more visible from a distance in poor visibility conditions. The high-visibility protection is available in three different colours. In addition, arm stripes with a reflective surface are attached to the clothing for extra protection. The work shirt complies with the EN 20471 protection standard.
Your advantages at a glance:
1. Functional shirt with high-visibility colours
2. Visible even in poor visibility conditions
3. Certified according to protection standard EN 20471
In addition to functional shirts, we also offer other workwear. Our range includes longsleeves, sweatshirts and work pullovers that have the same advantages as the functional shirts.