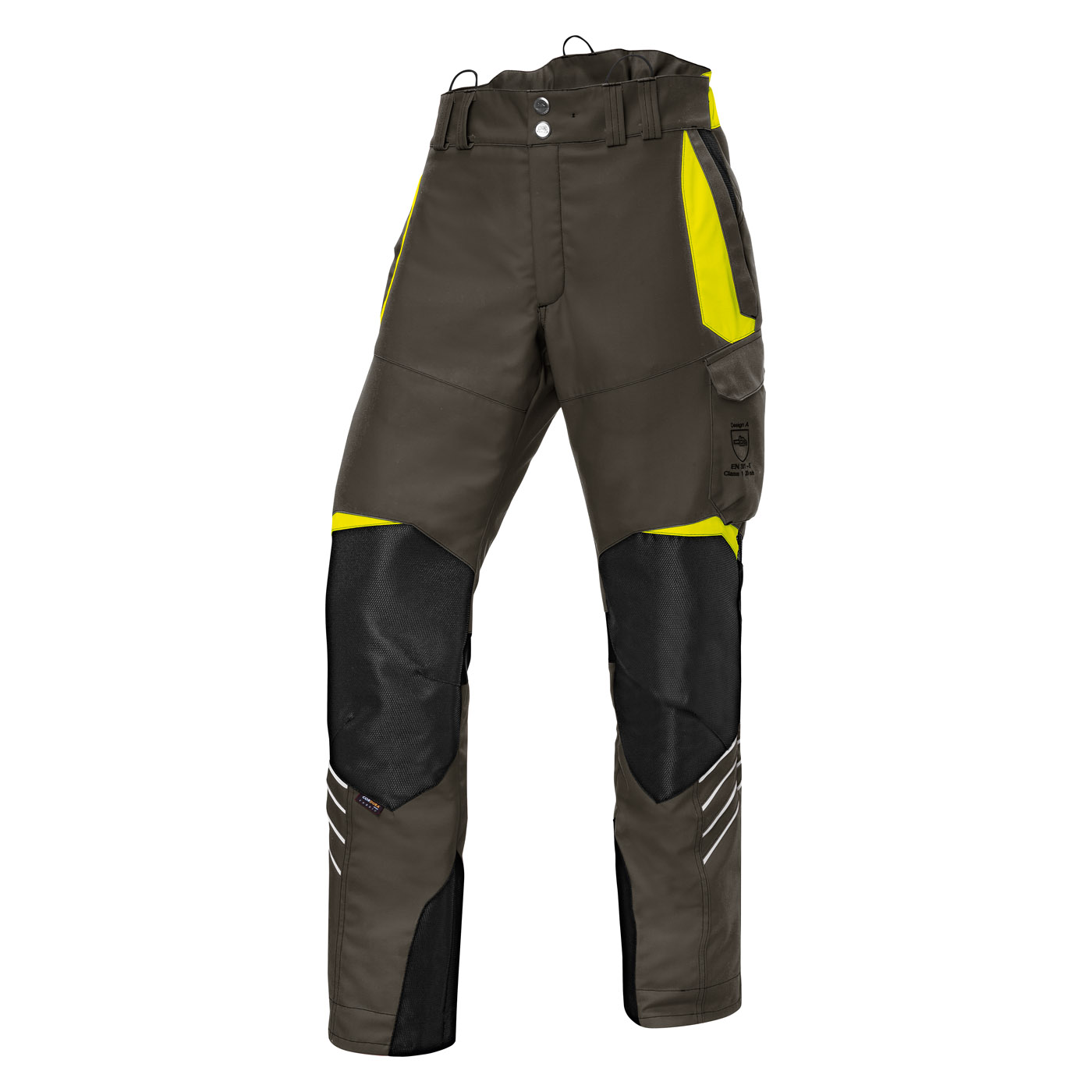 DESIGNContrasting elements in high-vis yellow: Inserts on waistband, leg pockets, side pockets, above the knee, back belt loopsContrasting elements in black: Pocket openings, knee reinforcement, seam reinforcement, ruler pocket, knee hollow insertsKÜBLER branding on inner waistbandCORDURA® and zips: BlackReflective elements: Shark design reflective piping laterally underneath the kneeFUNCTIONErgonomic contouring for greater freedom of movement2 side pockets with zips, pocket openings reinforced with CORDURA®Right hand side: Hip pocket with zip, flap and snap fastenersRight hand side: Ergonomically positioned loose ruler pouch made from CORDURA® with opening for a chainsaw key and addition reinforcementLeft hand side: Roomy thigh pocket with flap and snap fastenersElasticated waistband with kidney protectionPre-shaped knees reinforced with CORDURA®Inner leg seams reinforced with CORDURA®Softshell and mesh ventilation inserts above the hollow of the knee for optimal temperature balanceIntegrated mesh gaiter to protect against dirt and insects with fastenings to attach to shoes3 cord inserts on the waistband to attach to bracesWaistband with 2 snap fasteners and inner button to ensure trousers remain fastenedZip flyErgonomic, non-slip zipLoad points reinforced with bartack9 layers of cut resistant fabric
DESIGNContrasting elements in high-vis yellow: Inserts on leg pockets and above the knee, mesh inserts in ventilation openingsContrasting elements in black: Reinforced knees and seams, ruler pocket, kidney protection and back yoke, lower leg areaKÜBLER branding on inner waistbandCORDURA® and zips: BlackReflective elements: Reflective piping laterally underneath the knee in shark design, on the knee, seam and ventilation openingsFUNCTIONErgonomic contouring for greater freedom of movement2 side pockets with concealed zip2 hip pockets with concealed zipRight hand side: Ergonomically positioned loose ruler pocket made from CORDURA® with opening for a chainsaw key and addition reinforcementLeft hand side: Roomy thigh pocket with concealed zipElasticated waistband with improved kidney protectionStretch inserts on upper thigh, knee reinforcement and rear trouser section up to the calfPre-shaped knees reinforced with CORDURA®Thorn protection on lower leg areaVentilation openings with zip and mesh insert above the hollow of the knee for optimal temperature balanceIntegrated gaiter made from mesh to protect against dirt and insects with fastenings to attach to shoes3 cord inserts on the waistband to attach to bracesRobust belt loops, right with loops for carabiners with 2 snap fasteners and inner button for secure closureZip flyErgonomic, non-slip zipLoad points reinforced with bartackWater-repellent, abrasion resistant and oil-resistant outer fabric7 layers of elastic cut resistant fabric
DESIGNContrasting elements in high-vis yellow: Inserts on waistband, leg pocket, side pocket, above the knee, back belt loopsContrasting elements in black: Pocket openings, knee reinforcement, seam reinforcement, ruler pocket, knee hollow insertsKÜBLER branding on inner waistbandCORDURA® and zips: BlackReflective elements: Shark design reflective piping laterally underneath the kneeFUNCTIONErgonomic contouring for greater freedom of movement2 side pockets with zips, pocket openings reinforced with CORDURA®Right hand side: Hip pocket with zip, flap and snap fastenersRight hand side: Ergonomically positioned loose ruler pouch made from CORDURA® with opening for a chainsaw key and addition reinforcementLeft hand side: Roomy thigh pocket with flap and snap fastenersElasticated waistband with kidney protectionPre-shaped knees reinforced with CORDURA®Inner leg seams reinforced with CORDURA®Softshell and mesh ventilation inserts above the hollow of the knee for optimal temperature balanceIntegrated mesh gaiter to protect against dirt and insects with fastenings to attach to shoes3 cord inserts on the waistband to attach to bracesWaistband with 2 snap fasteners and inner button to ensure trousers remain fastenedZip flyErgonomic, non-slip zipLoad points reinforced with bartack9 layers of cut resistant fabric
Features of our category PPE III cut protection trousers:

Certified according to EN 381-5 Cut protection

New models additionally according to EN ISO 11393-2 Cut protection

Protection against cuts with hand-held chainsaws

Cut protection class 1 (20 m/s chain speed)

Repeated conformity assessment by external body
Our goal is to ensure your safety at every moment of your working day. As a manufacturer with many years of experience, we are aware of this responsibility. The models in our shop have a cut protection insert on the legs that keeps out saw blades with the standard speed of 20 metres per second. Please note: The protection of cut-resistant functional trousers depends on several factors. These include the speed of the chain, its sharpness and the individual angle of impact on the leg. There is therefore no model on the market that offers one hundred percent protection against small, superficial cuts in the event of an accident. Serious injuries, on the other hand, are impossible with our KÜBLER FOREST trousers.
Durable materials as a quality feature - our cut protection trousers are made up of several layers of fabric.
The protective effect of cut-resistant work trousers is based on their special structure. Basically, they consist of an outer shell and an inner fabric. Between them is the actual protective insert, which consists of several loosely woven threads. These are fine and yet extremely tear-resistant. When a rotating saw touches the trousers, it first cuts through the outer fabric. Then it hits the fibres of the protective layer, which, thanks to their loose structure, come loose and wrap around the drive wheel. In fractions of a second, the saw blade comes to a stop.