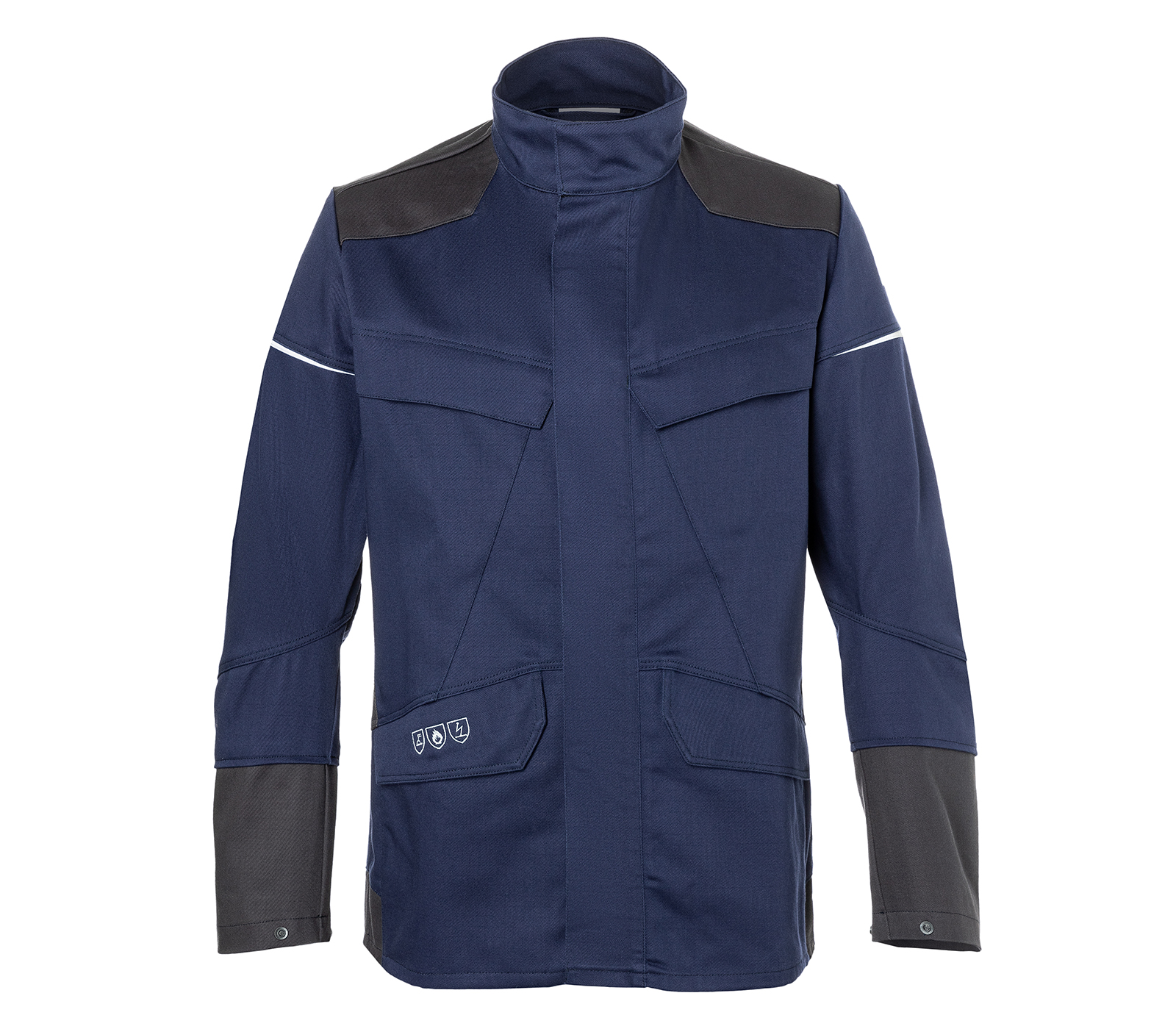 DESIGNEasyBrand function for easier customisation with certified finishing options on sleeve pockets, chest pockets and back pocketsContrasting elements: Front and back side panels and shoulder yokes, back hem and sleeve cuffsZips and snap fasteners: Black for all colour combinationsReflective elements: Upper back and upper armsFUNCTION2 chest pockets with flap2 side pockets with velcro flap2 inner pockets with velcroCovered front zip fastener, placket with snap fastener and velcroStand-up/turn down collar with velcroErgonomically tailored sleeves with additional room for greater freedom of movementAdjustable cuffs with snap fastenersComfortable back pleatsLonger backLabel in collar denoting suitability for industrial laundrySmartRepair functionLoad points reinforced with bartack
DESIGNEasyBrand function for easier customisation with certified finishing options on trouser legsContrasting elements: Pocket openings, belt loops, left thigh pocket, hemReflective elements: In knee seamFUNCTIONErgonomic contouring for greater freedom of movement2 side pockets with velcro2 hip pockets with velcro flapRight hand side: Ergonomically positioned loose ruler pouch with velcro flap, additional multi-function pocketLeft hand side: Thigh pocket with velcro flap and combined smartphone pocketElasticated waistbandZip flyWaistband with hidden buttonPre-shaped knees with room for movementKnee protector pockets that can be filled from below with flapSmartRepair functionLoad points reinforced with bartackKnee protector pockets certified in accordance with EN 14404:2004 + A1:2010 type 2, performance level 1 in conjunction with knee pads Art. 8107 9120-99
DESIGNEasyBrand function for easier customisation with certified finishing options on trouser legsContrasting elements: Pocket openings, left thigh pocket, hemReflective elements:In knee seamFUNCTIONErgonomic contouring for greater freedom of movement2 side pockets with velcro2 hip pockets with velcro flapRight hand side: Ergonomically positioned loose ruler pouch with velcro flap, additional multi-function pocketLeft hand side: Thigh pocket with velcro flap and combined smartphone pocketDouble bibBib pocket with velcro flapZip flyElastic straps with shock and heat resistant plastic claspsHigh, ergonomic waistband to protect the kidneysStretch insert in bandPre-shaped knees with room for movementKnee protector pockets that can be filled from below with flapSmartRepair functionLoad points reinforced with bartackKnee protector pockets certified in accordance with EN 14404:2004 + A1:2010 type 2, performance level 1 in conjunction with knee pads Art. 8107 9120-99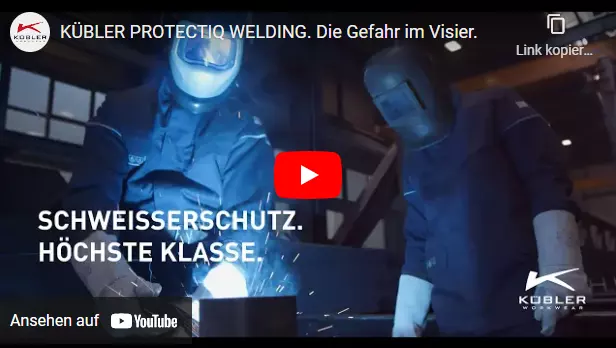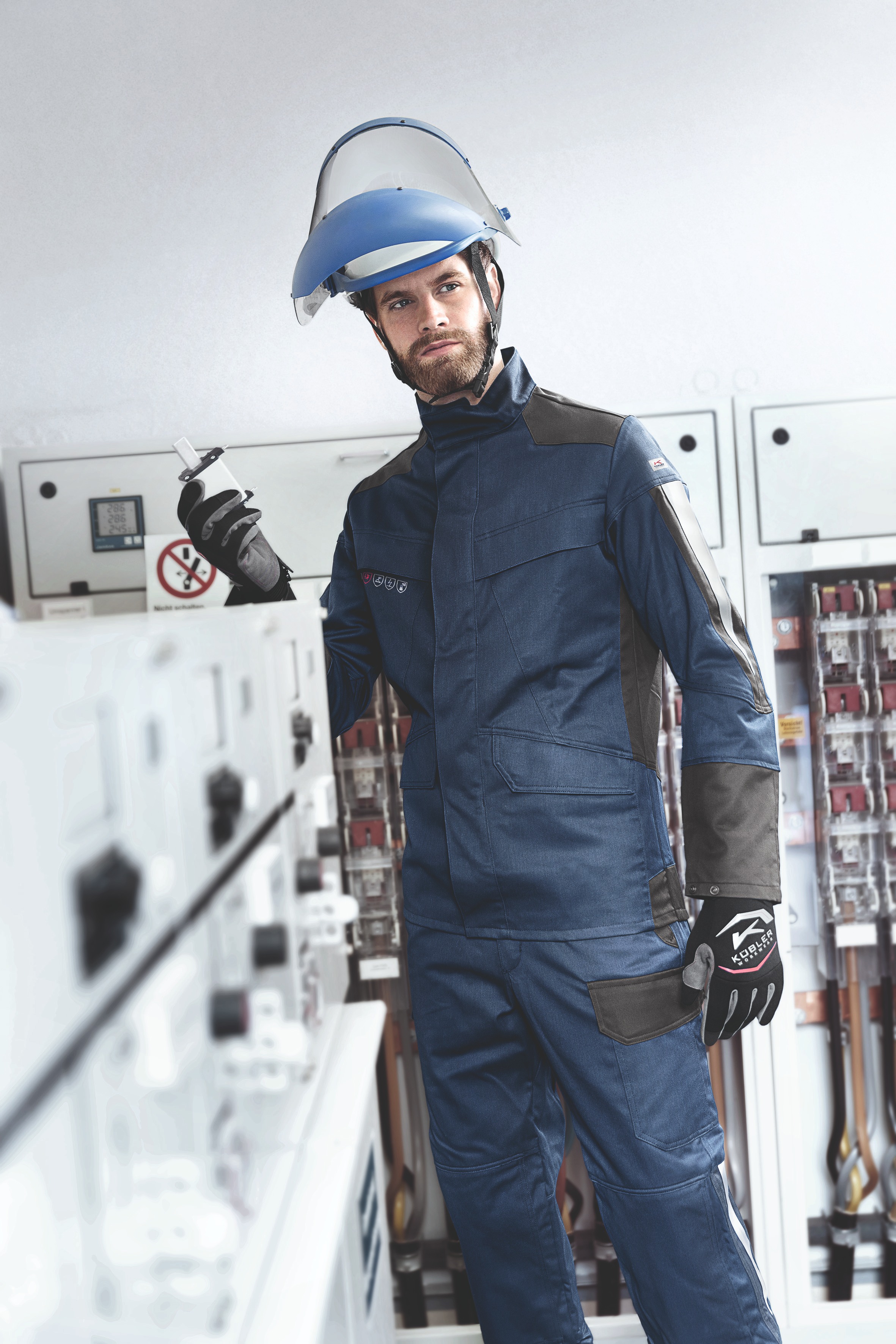 Standard pictograms embroidered on the clothing identify it as personal protective equipment and ensure a high-quality look. In addition, athletically shaped contrast inserts emphasize the silhouette.

At defined points on the sleeves, breast pockets and back, it is possible to finish the protective clothing with embroidery or patch badges in compliance with standards. Thanks to the intelligent design, retrofitting with reflective stripes on trouser legs and sleeves is also possible.

Sporty reflective elements on the upper arm and rear pants set effective accents.

All products are tested under laboratory conditions according to EN ISO 15797 and are optimally suited for industrial laundering. In addition, KÜBLER always tests textile care under industrial conditions with reliable partners.

Jacket, trousers and dungarees offer the highest wearing comfort thanks to well thought-out details such as ergonomic sleeve and leg shaping including movement zones as well as the elastic waistband insert and ensure maximum comfort.

All pockets are covered with extra-wide, standard-compliant flaps. This means that neither metal splashes nor sparks can fall into the pocket openings. The roof tile effect additionally ensures that liquids and splashes can drain directly downwards.

The knee protection pockets, which can be filled from below, are certified in combination with the Multinorm knee protection pad Art. 8107 9120-99. In addition, all stress points are secured with latches. The approx. 450 g/m² fabric is extraordinarily robust.

The workwear is completely metal-free. The zippers are made of plastic. This avoids thermal bridges. Push buttons are covered and can be opened and closed comfortably.
Whether knee protection pockets, pockets or zippers - the intelligent design allows easy and quick replacement of individual parts.

The products are tested in accordance with the European PPE Regulation (EU) 2016/425 and meet the latest standards. Different protection classes ensure a reliable protective function in various hazardous situations.