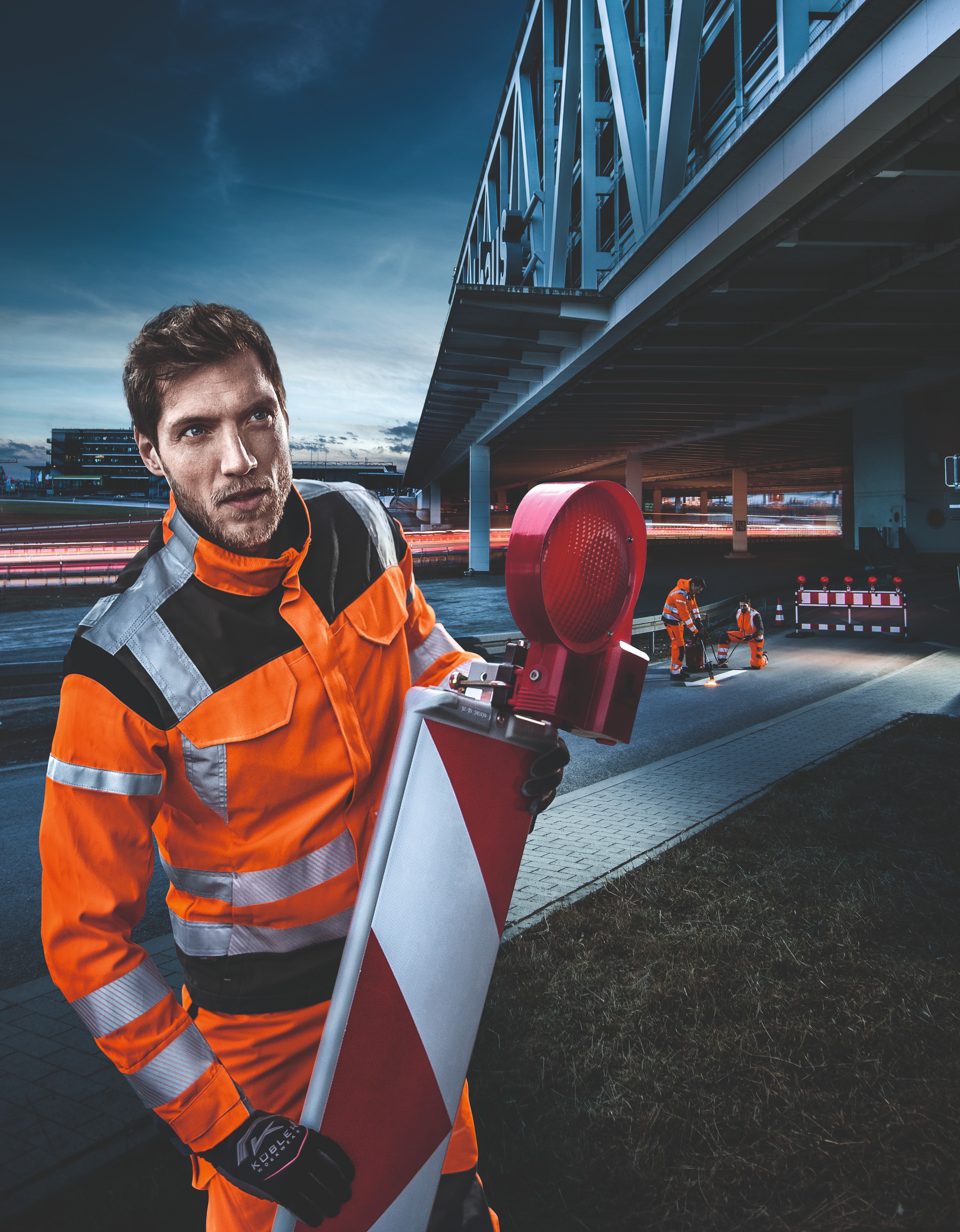 The innovative combination of segmented and continuous reflective stripes is right on trend. The large color selection allows for an individual look. In combination with the body-hugging cut, the sporty contrast inserts make the silhouette look particularly athletic.

The best prerequisites for a uniform look: The detachable pocket pouch of the EasyBrand chest pocket and the lining opening in the back of the weather jacket simplify the application of the company logo and name. Special regulations apply to high-visibility clothing with regard to finishing.

Safe in all cases: The reflective stripes are arranged in body-language optics and thus ensure optimum visibility from any angle. Additional reflective elements on the shoulder make the wearer easier to spot, even during stooped activities.

The ergonomically cut sleeve of the jackets allows maximum range of action with additional movement zones. The pants support every movement thanks to pre-shaped knees and elastic waistband insert. Inside knitted cuffs, the elastic cord in the hem and the weather jacket with hood and extended suction barrier leave no chance to wind and weather. The summer pants offer ventilation inserts for optimal air circulation even in warm temperatures. The material composition of 50% cotton and 50% polyester ensures the best wearing comfort and less skin irritation.

Everything at hand: Numerous, conveniently placed pockets offer ample space with their storage folds and best accessibility thanks to a clever overreach function and easy-grip zippers. Whether tools or valuables - thanks to zippers and flaps, every item can be safely stowed away. The knee pockets on pants and dungarees can be filled quickly and easily from above.

Extremely durable: CORUDRA® reinforcements on pockets, belt loops and stressed areas protect against abrasion damage. The extremely dimensionally and color stable broken twill fabric comes from European suppliers. The homogeneous, smooth surface and contrasting inserts reduce dirt adhesion. The certified knee pockets keep moisture out thanks to a water-repellent coating. In addition, the reflective stripes are attached securely and durably by the 2-needle stitching.