CHARACTERISTICS OF OUR PROCESSING
Multiple seam security through overstitched safety seams
Elastic waist inserts for increased wearing comfort
Elastic inserts at ergonomically important points
Robust slot processing
Bolt protection of particularly stressed areas
Comfort waistband with button or elastic zones
Roomy pocket pouches
Covered and securely closable pockets
Concealed zips that protect sensitive surfaces from scratches
Double bib for best stability and durability
Antistatic fibres
Antistatic fibres or threads are conductive elements introduced into the fabric to minimise or eliminate electrostatic charging. KÜBLER uses antistatic fibres in Multinorm garments.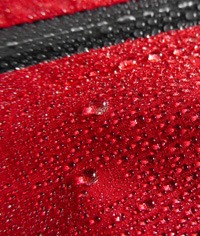 Finishing
Special textile finishing processes have a positive influence on fabric properties. Finishing is the term used to describe the refining treatment of textiles to give them a special appearance or a certain property. These include, for example, water-repellent, antistatic, flame-retardant or antimicrobial properties. KÜBLER uses finishes or fluorocarbon finishes in certain product lines to protect the clothing from dirt, water or stains.
Cotton
Cotton is a natural fibre that is very skin-friendly, temperature-balancing and absorbent. This is why cotton is one of the most popular fabric materials. Well-processed cotton has a particularly low allergy potential, absorbs work dirt and releases it easily when washed. Technical advantages result from its extensive resistance to heat, flying sparks and flames. Cotton is also way ahead in the eco-balance, renewable as a raw material and ecologically degradable at the end of its life cycle.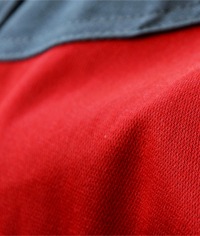 Broken Twill
Broken twill is a relatively new type of weave. The special combination of fabric weave and thread setting offers a special look with optimal usage properties.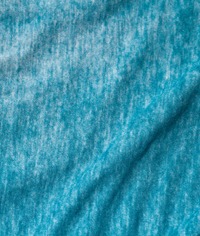 Elastane
Elastane is an extremely stretchy synthetic fibre. It is used as an admixture to create a stretch effect that improves fit and comfort. A combination of stiff and elastic areas in the fibre gives it a stretch of more than seven times its length. The fibre contracts back to its original length after stretching and is permanently elastic.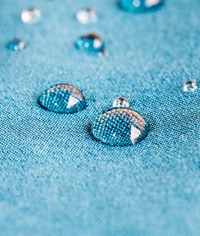 Laminate
A laminate is a textile fabric that consists of several layers and is bonded to at least one textile, such as the outer material or the inner lining of the garment. The connection is usually made by bonding or fusing with appropriate textile machines.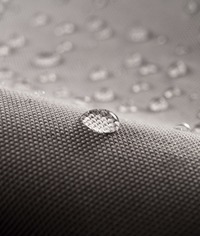 Liner
A liner is a textile fabric consisting of several layers which, in contrast to a laminate, are not connected to each other over their entire surface.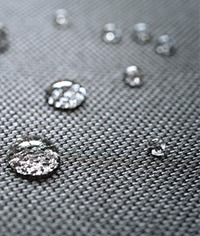 Membrane
A membrane is a thin separating layer used in clothing for weather protection. A drop of water is about 20,000 times larger than the pores of a membrane. This means that precipitation or other liquids cannot penetrate. In contrast, however, water vapour produced by perspiration can be transported away because it is fine enough to penetrate the membrane. This is called breathability.
Meta-aramid
Meta-aramid belongs to the aramid fibres. It is characterised by high strength, toughness and elongation at break. In addition, it is very heat-resistant. Aramid fibres do not melt even at extremely high temperatures, but start to carbonise (approx. 400 °C). KÜBLER uses aramid fabric in certified safety clothing.
Blended fabric
A blended fabric is made from at least two different types of fibres. By combining them, the positive properties of the respective fibres are to be combined in one fabric. 65% polyester and 35% cotton form a particularly breathable material blend. The cotton content quickly absorbs moisture, while the synthetic fibre quickly wicks it away to the outside. KÜBLER products made from blended fabrics are used when the clothing needs to be tear-resistant, easy-care and quick-drying.
Modacryl
The fibre is an inherently flame retardant product. It has excellent charring properties without melting or dripping and complements other fibre types with its own positive properties. The fibre exhibits superior chemical resistance to acid, alkaline, organic and inorganic chemicals. The handle is pleasantly soft and supports optimal wearing properties.
Polyamide
Polyamide is a synthetic fibre and was first produced in the 1930s. For this purpose, a syrup-like spinning mass is pressed through spinnerets. Polyamide has the highest strength of all man-made fibres. The fabric is easy to care for and dries very quickly because it absorbs very little moisture.
Polyester
Polyester is a fully synthetic fibre and, like polyamide, absorbs very little moisture, but has a higher temperature resistance and is also very dimensionally and colour stable.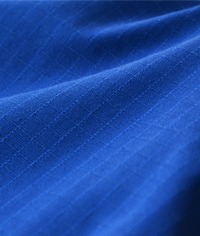 Ripstop
Ripstop refers to fabrics that are woven using a special technique. Thicker threads are integrated into the otherwise thinner fabric at certain intervals, resulting in a boxed look. The advantages of ripstop fabrics are the very good weight/stability ratio and the particularly good tear resistance. KÜBLER uses ripstop in the PULSSCHLAG product line.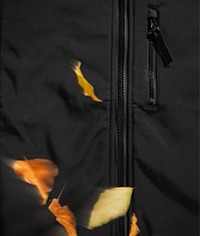 Softshell
Softshell materials are extremely breathable, lightweight, durable, water- and wind-repellent stretch fabric constructions with a high level of comfort. Common to all softshell materials are properties such as high elasticity and textile feel. While the outside is smooth and robust, a microfleece is laminated onto the inside. The design of the inside determines not only the wind permeability or windproofness but also how warm the softshell keeps. Our KÜBLER softshell jackets have a cosy, roughened inner fleece with a high pile.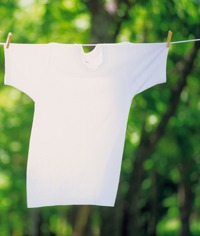 Sanfor®
Fabrics with the SANFOR® trademark are mechanically shrunk in the last work step using a special textile technique. This prevents shrinkage during washing and ensures that the garment retains its shape for a long time. This is also referred to as shrinking.
Viscose
Viscose is a fibre produced artificially from regenerated cellulose. It can be processed into light and soft-flowing fabrics. The pleasant wearing properties are those of cotton. Viscose is even more absorbent than cotton.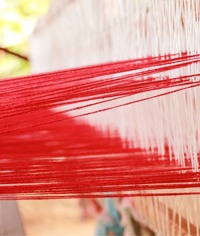 Weave bindings
In weaving, a distinction is made between three basic weave types. In plain weave, a warp thread is laid alternately over and under a weft thread. The pattern resembles a chessboard. The twill weave is a typical weave for workwear. It has a diagonal S or Z ridge. With the atlas or satin weave, the weave points do not touch. A distinction is made between warp and weft atlas.