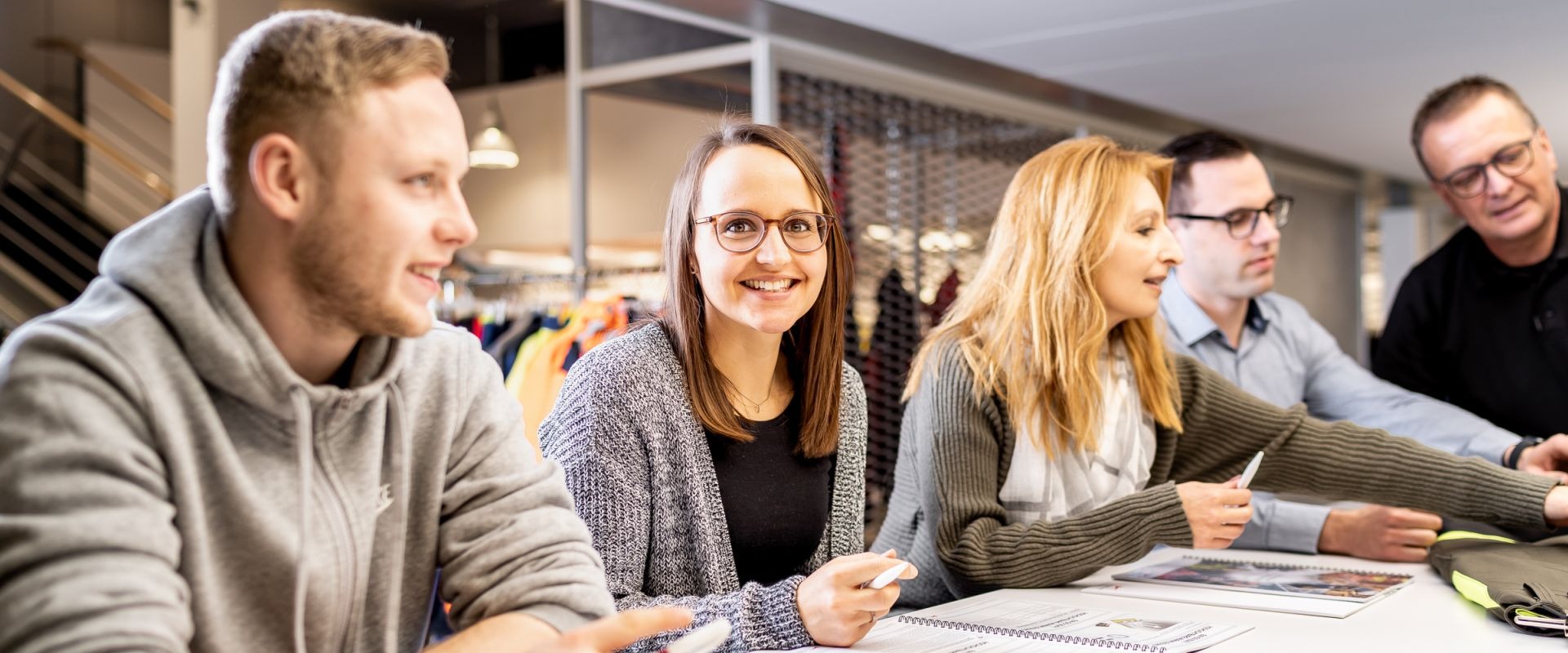 YOUR ENTRY TO
ADVANCEMENT
We attach great importance to the training of qualified junior staff and therefore offer several training and study places every year in both the commercial and industrial/technical fields. In order to optimally prepare our apprentices and dual students for working life, they pass through various departments during their multi-faceted training period at KÜBLER. This not only imparts knowledge in specialist processes, but also allows them to experience corporate contexts and structures. After successful completion of the training/study programme, we look forward to taking on our junior staff in attractive positions if their personal interests and the company's needs match.
START OF TRAINING
01. September of the respective year
START OF STUDY
Start of studies: 01 October of the respective year

Preliminary internship: 4 weeks
GENERAL CONDITIONS
Working hours: 37 hours per week
Holiday: 30 days per year
TRAINING ALLOWANCE
Training year: 890€
Training year: 983€
Training year: 1.088€
TUITION FEES
Training year: 1.068€
Training year: 1.180€
Training year: 1.305€
SOCIAL BENEFITS
Holiday and Christmas bonus
Capital-forming benefits: 20.00
Company pension scheme
GOOD TEAM AND TRAINEE COHESION
At KÜBLER there is a very good cohesion between the trainees & dual students among themselves but also within the training departments, which is strengthened and promoted by regular trainee and employee events.
SYSTEMATIC FURTHER DEVELOPMENT
Through our appraisal and support system, we contribute to continuous development of trainees and dual students with regular feedback meetings in every department.
HOLIDAY PAY AND CHRISTMAS PAY
At KÜBLER trainees and dual students receive both an additional holiday bonus and an additional Christmas bonus.
MOBILE WORKING
In order to offer our trainees and dual students flexibility at , commercial trainees and dual students have the option of mobile working.
OCCUPATION-SPECIFIC TRAINING PLAN
An individual training plan is created in advance for each trainee and dual student. This plan is tailored to the respective training and study occupations and is based on the training plan or the module descriptions.
ONE-OFF BONUS IF YOU COMPLETE THE TRAINING PROGRAMME
If you complete the apprenticeship or the study programme very well to well , you will receive a one-time bonus from KÜBLER.
RELEASE FROM WORK FOR THE TECHNICAL ASSIGNMENT, PROJECT AND BACHELOR'S THESES
Trainees and dual students are released from work for the assignment, project and bachelor's thesis and also receive a compilation period in the company.
TRAVEL ALLOWANCE
Trainees and dual students receive a travel allowance at KÜBLER .
COST ABSORPTION FOR THE EXAM PREPARATION COURSE
The trainees have the opportunity to take part in a exam preparation course . The costs for this are borne by KÜBLER.
What our trainees/students say
< img src="https://www.kuebler.eu/media/0c/4e/52/1658149196/noun-calendar-3574904%20(1)_(1).png" />
Trainee diary
Our trainees and dual students will report here regularly about their work, campaigns and events related to their training. Enjoy reading!